®

Today's poem is "Corfu"
from (T)ravel/Un(T)ravel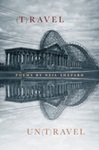 Neil Shepard
is the author of three previous collections of poetry—Scavenging the Country for a Heartbeat, I'm Here Because I Lost My Way, This Far from the Source— and poems have appeared in numerous publications, including Boulevard, Harvard Review, and Paris Review. Shepard is Senior Editor of Green Mountains Review and a founding member of the poetry-jazz ensemble PoJazz. He teaches in the low-residency MFA Writing Program at Wilkes University and lives in Vermont and New York City.
Other poems by Neil Shepard in Verse Daily:
October 2, 2006: "This Is How It Is" " I'm old enough to know this daylight..."
June 29, 2005: "Snowdon Philosophy" "Count me one object among many..."
April 2, 2004: "Oh! On an April Morning" "I'm ready to murder the flowers...."
Books by Neil Shepard:

Other poems on the web by Neil Shepard:
"The News"
Four poems
Neil Shepard According to Wikipedia.
About (T)ravel/Un(T)ravel:
"With a generosity of awareness matched by a rich vocabulary and a trove of lightly carried information that brings close the exotic and renders it familiar, Shepard moves across the world as a sort of lyrical investigative reporter, staying true to the evidence of his eyes, and reaching for an awareness that's informed by philosophic attention, full of thoughtful responses -- never opinionated, always illuminating. As readers he obliges us to accompany him on these journeys -- part wonder, and part fact-packed documentary -- leaving us startled and satisfied by the abundance and variety of the world we inhabit or imagine. Occupying our mind as well as our other senses, the poems in this mature and various fourth collection provide touches of transcendence matched by dashes of skeptical understanding of the often pitiless way of the big world -- its savage contrasts between luxury and abject lack, its dizzying shifts from erotic bliss to a melancholy consciousness of the misery that lies all about us. In addition, with their deliberate attachments to the American literary tradition -- the visionary line of epic gazers (Emerson, Whitman, Jeffers, Sandburg, Melville, Stevens, Poe) -- Shepard's remarkable meditations take their place in a longstanding debate, implicit or explicit, that American artists have always had with the Old World, European and other. 'Throw open the doors!' he says in one poem, and in so many ways the meditative lyrics of (T)RAVEL/ UN(T)RAVEL do just that."
—Eamon Grennan
"We are taken, more than happily, all over the planet by (T)RAVEL/UN(T)RAVEL, but early on, we recognize that these are no glib or ill earned Tourist Poems: in the course of a rich and distinguished artistic and personal life, Shepard has discovered that 'Travel is the Voice/in the Void, the I's passport to Thou,' as this volume eloquently shows. Shepard takes on nothing less than teleology. Commanding that passport voice, resonant in poem after poem, the author speaks with a rare and refreshing maturity. The Void, and attendant nihilism, may tempt him, but, to quote Shepard by way of one great poem's title: 'I Say Nada to Nada.' As man and poet of the same age as he, I take courage from his confrontation of the abyss -- and his daringly leaping over it."
—Sydney Lea
"In language by turns luscious and unsparing, skeptical and sensitive, the poems in Neil Shepard's intricately conceived (T)RAVEL/UN(T)RAVEL ricochet the far-flung points of the globe where he has lived and wandered, from the Marquesas to Versailles, from Corfu to Cambridge to China and back around again, keenly seeing, absorbing, and reporting on the world, but this is no travelogue. With introspection, argument, homage, the poems go 'beyond what is sensibly revealed,' enacting 'abrupt dislocations of matter' in their wide-ranging intellectual concerns. Whether haunted by blind beggars, 'the cross hairs of their eyeless stares, worse than the eye of the all-knowing,' or contemplating with rue 'sculpted trees/supervising the eye toward ornate fountains,' Shepard's eye and intelligence construct a vision compelling, revelatory and necessary to our age."
—Carol Moldaw
"Neil Shepard's (T)RAVEL/ UN(T)RAVEL takes us from the sublime -- Paris in Spring, sunset on Corfu -- to an unscheduled toilet stop in a Chinese desert as fellow passengers cheer. Yes, there's light at the heart of this book; but darkness too, as the world and the traveler unravel and re-ravel, fall together, come apart. Shepard proves the best sort of traveling companion -- lively, observant, incisive, eloquent, charmed by the strange and familiar, the old and new. Climb aboard these poems. Enjoy the ride."
—Charles Harper Webb
"From the golden statement of his title poem, (T)RAVEL/ UN(T)RAVEL, through luscious dislocations of time and space (in China, Bali, Spain, Wales and more), poet Neil Shepard turns roving into an art and creates art from the sensuous apprehension that only a being in motion can give. Not only does the poet roam the world, he roams in time, making literature itself his landscape. And when he's sick of travelling, torn between the coddled life and the life deprived, Shepard begins his unraveling and locates the task of the poet in this globalized world: to live many lives and find words both native and foreign for the 'ever-widening distance' and the intimate, disparate connections he feels. These are poems of depth, discovery, and snap -- Shepard at the top of his powers."
—Molly Peacock
Support Verse Daily
Sponsor Verse Daily!
Home Archives
Copyright © 2002-2012 Verse Daily All Rights Reserved