®

Today's poem is "Against My Will"
from >Home Burial

>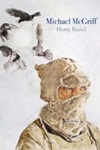 Michael McGriff
was born and raised in Coos Bay, Oregon. His books include Dismantling the Hills; To Build My Shadow a Fire: The Poetry and Translations of David Wevill; and a co-translation of Tomas Tranströmer's The Sorrow Gondola. His poetry, translations, and essays have appeared in numerous publications, including American Poetry Review, Bookforum, Slate, Narrative, The Believer, and The Wall Street Journal. He has received a Lannan Literary Fellowship, a Stegner Fellowship, and a National Endowment for the Arts Literary Fellowship. He is the founding editor of Tavern Books, a publishing house devoted to poetry in translation and the reviving of out-of-print books.
Other poems by Michael McGriff in Verse Daily:
Books by Michael McGriff:

Other poems on the web by Michael McGriff:
> Six poems
> Eight poems
> "Winter Lottery"
> "Year of the Rat"
> "Keats' Sparrow"
> "Foxgloves"
> "Mercy, Tear it Down"
Michael McGriff According to Wikipedia.
About The Crossed-Out Swastika:
"On the surface, a world of hospitals, casinos, convenience stores, toolsheds, banquet halls—all the lit squares of our civil selves. Below the surface, a murky realm, subconscious, magic, oracular, where blind hearts swim through an elemental darkness. And Michael McGriff is constantly letting his bucket down on a long long rope, to tug the darkness up into the light… a rope of words that finally seem well-chosen, but inevitable. Look, as an effete urban intellectual I don't know a bucket of chicken guts from a Buick's engine block. But I know Real Poetry when I read it; and it's richly seamed through every tunnel we can possibly mine through this book."
—Albert Goldbarth
"McGriff's latest collection of lyrical poems hauntingly blurs the distinction between land and machine, inhabitant and environment…. Despite all the dirt and grime, there is love of place in these poems. In the midst of dark and dreary surroundings, McGriff conjures stark beauty, artfully depicting a decaying community with a combination of tenderness and dread, animosity and nostalgia."
—Booklist
Support Verse Daily
Sponsor Verse Daily!
Home Archives
Copyright © 2002-2012 Verse Daily All Rights Reserved