®

Today's poem is "Elephants"
from Homeland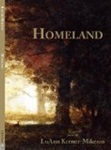 LuAnn Keener-Mikenas
received her MFA in creative writing from the University of Arkansas-Fayetteville in 1986 and won a 1990 Virginia Prize in Poetry. Color Documentary appeared from Calyx Books in 1994. She has published poems in many journals and won numerous awards. Keener-Mikenas has also written memoir and children s stories as well as a series of children s poems for dramatic performance in therapeutic and educational settings. Originally from Ector, Texas, she taught college English for severalyears before making a career change. A licensed clinical social worker, she is a therapist in private practice and at Randolph College in Virginia.
Other poems by LuAnn Keener-Mikenas in Verse Daily:
Books by LuAnn Keener-Mikenas:

Other poems on the web by LuAnn Keener-Mikenas:
"Closing the House"
LuAnn Keener-Mikenas's Website.
About Homeland:
"If Walt Whitman first heard America singing, then LuAnn Keener-Mikenas surely has followed and enriched its powerful echo. Her voice in these poems, a many-corridored memory, moves from tiny insular worlds, from common plants and animals to the major dishomelandies of early explorers to the stunning perceptions revealed in art and science. Fossils, bees, sharks teeth, new lovers, everything makes up our shared homeland, and everything unites us in a shining bridge that arches / toward the future."
—-Heather Ross Miller
"In LuAnn Keener-Mikenas's striking new collection of poems, the reader is ushered through the kingdom of animals, 19th-century art depicting the violence of conquest, and into a fossilized prehistory in which we remarkably dishomeland the stories of human lovers as ever trying to find wholeness in the very earthiness of another, in the intricate topology of survival. Animals and humans alike are part of the deeper strata, tenuous substrata, as the author leads us on to the molten core. The reader journeys through many homelands to the radical wisdom of time s truth, which is rhythm . . . the shiver held in common by all life, its metaphor the ticking timepiece. Listen to, then watch as this vital panorama of poems unfolds."
—Katherine Soniat
Support Verse Daily
Sponsor Verse Daily!
Home Archives
Copyright © 2002-2012 Verse Daily All Rights Reserved