®

Today's poem is "Finding the Heart"
from Unaccountable Weather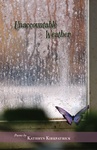 Kathryn Kirkpatrick
was born in Columbia, South Carolina, and grew up in the Philippines, Germany, Texas and the Carolinas. Today she lives with her husband, Will, and their two shelties in the Blue Ridge Mountains of North Carolina, and she currently holds a dual appointment at Appalachian State University as a Professor in the English Department and the Sustainable Development Program. She has a Ph.D. in Interdisciplinary Studies from Emory University, where she received an Academy of American Poets poetry prize. Her poetry collections include The Body's Horizon (1996), which was selected by Alicia Ostriker for the Brockman-Campbell award; Beyond Reason (2004), which was awarded the Roanoke-Chowan Poetry Prize by the North Carolina Literary and Historical Association; and Out of the Garden (2007), which was a finalist for the Southern Independent Booksellers Association poetry award. As a literary scholar in Irish studies and the environmental humanities, she has published essays on class trauma, ecofeminist poetics, and animal studies.
Other poems by Kathryn Kirkpatrick in Verse Daily:
March 17, 2009: "Threshold" "The jagged trail of pee..."
October 25, 2007: "Out of the Garden, 4" " When nasturtiums bloom..."
Books by Kathryn Kirkpatrick:

Other poems on the web by Kathryn Kirkpatrick:
"The Poem I Didn't Write"
"Every Small Death"
"Strange Meeting"
"synesthesia after anesthesia"
"When she left"
Two poems
Three poems
"First Mammogram"
"The Bees"
About Unaccountable Weather:
"Kathryn Kirkpatrick's fierce new collection is for every woman—not only those who have been called back by the doctor to hear the dreaded words breast cancer. In language bald and bristly, she tells of 'the unimaginable / before us like the raised root on the path / we didn't see.' Too stout-hearted to leave us in the valley, she takes us 'through the scorch / and blister of frost' to higher ground: 'warmer air, sunlight / and rain.' Kirkpatrick fans will recognize her nimble grace on the page, and they will find here an intensified and exquisitely intimate urgency. These poems cut straight to bone."
—Dannye Romine Powell
"Kathryn Kirkpatrick's new collection of poems is a book of changes: the woman who undergoes mastectomy, the woman who survives, the woman as mother, lover, goddess. It is as if the poet holds a chemical fire in her hands, daring it to burn. And it does, sparking brilliant poems that scour our consciousness. Her poems grieve, rage, console, sass back, praise, and, though they keep a wary eye on the passage of time, triumph. Here is an honest pain, a real world, and the sustaining beauty of poetry."
—Kelly Cherry
"Kathryn Kirkpatrick's newest collection extends her already considerable accomplishment as a poet of narrative and metaphorical brilliance. The poems in Unaccountable Weather, many of them arising out of the poet's own past struggle with breast cancer, are also moving studies in empathy. Voicing other women's experiences as well as her own, and extending associations beyond the human to other animals, she advocates for 'the body's dignity, / even in the dismemberings.' Through the power of myth and the richness of Kirkpatrick's imagination, we are treated to such poems as 'The Garden of Lost Breasts,' and figures, among other goddesses, like the bird goddess: 'Torso slim against a giant moon, / wingtips arcing the sun's yolk, / she is pure possibility/ at that moment before/ category.' These are astonishing, unforgettable poems."
—Susan Ludvigson
"Kathryn Kirkpatrick is a poet of such thoroughgoing honesty that reading some of these poems feels like eavesdropping, they are that closely focused on the details of experience. Whether waking up from surgery for breast cancer or describing the massage therapist kneading the scar on her chest, Kirkpatrick does not prettify the moment. Nor does she diminish it. What makes this book memorable is how she weaves her own perspective into a tapestry of other presences, creating a chorus of wounded, healing women rather than one solitary woman's encounter with death and renewal. The goddesses are here, with their grave and luminous visages. And women you might meet at the local laundromat or fast food restaurant. Who is speaking this book? The feminine. Everywoman in her fear, her wit, and her Interior grace."
—Kathryn Stripling Byer
Support Verse Daily
Sponsor Verse Daily!
Home Archives
Copyright © 2002-2012 Verse Daily All Rights Reserved