®

Today's poem is "January"
from Basil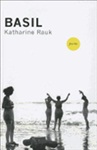 Katharine Rauk
's poems are published or forthcoming in literary journals such as Harvard Review, Beloit Poetry Journal, Zone 3, Copper Nickel, and others. A graduate of the Bennington Writing Seminars, she now lives and teaches in Minneapolis. Her chapbook, Basil, was selected as a finalist for the Fall 2008 Black River Chapbook Competition.
Other poems by Katharine Rauk in Verse Daily:
Books by Katharine Rauk:

Other poems on the web by Katharine Rauk:
"How Many Weeks are in a Day and How Many Years in a Month?"
About Basil:
"Haunted and haunting, lit by the distant flickering candlelight of childhood folktales, Katharine Rauk's poems are full of magical smells, ambitious insects and weeping toads. She takes us on dizzying trips inside the body's dark cavern. These grave and bright poems introduce us to an animistic universe of giddy possibility—hallucinatory, mysterious and beautiful."
—Amy Gerstler
"In Basil, Katharine Rauk offers up a flurry of searing images that is precise, worldly, near-angelic, and wholly sensuous. Out of the "unmanned / mansion of her mind" emerges a lucid stream of poems that this reader finds wonderfully idiomatic and sure-footed in tone and vision. There is a unique power to her imagination that movingly explores love, intimacy, and the natural world with linguistic flair and liveliness. I cannot imagine a more propitious addition and greater proof to our belief in what makes poetry essential to our lives than this book you now hold in your hands."
—Major Jackson
"Some say the best time to leave a party is just before it peaks; leave everyone else in the room wanting more. That's how this chapbook makes me feel—a basil leaf left in the mouth for the great untold adventure that lies ahead. Neruda our tutelary guide in all his surreal erotic gusto. Rarely has formal invention and variation felt so necessary. Never has frustration felt so good."
—Timothy Liu
"Welcome to the pleasures of Katharine Rauk's world, a world that feels as ancient as fairytales and as recent as texting. Here there is a mix of "rubied light" and "blooming dark" and everything is still in the process of being born, as if there were no DNA and the Creator continued to make each leaf from scratch. Be willing to be lost here. When you find yourself again, you'll be new."
—Fran Quinn
Support Verse Daily
Sponsor Verse Daily!
Home Archives
Copyright © 2002-2012 Verse Daily All Rights Reserved