®

Today's poem is "The Kiss of the Stone"
from The Porcupine of Mind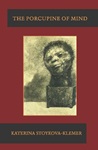 Katerina Stoykova-Klemer
's first poetry book, the bilingual The Air around the Butterfly (Fakel Express, 2009), won the 2010 Penchoís Oak award, given annually to recognize literary contribution to contemporary Bulgarian culture. She is also the author of The Most (Finishing Line Press, 2010) and Indivisible Number (Fakel Express, 2011, Bulgarian only), and the editor of Bigger Than They Appear: Anthology of Very Short Poems (Accents Publishing, 2011). In 2007, Katerina founded Poezia, weekly poetry and prose workshops open to the public and based in Lexington. She is the creator and host of Accents, a radio show for literature, art and culture on WRFL, 88.1 FM, Lexington. In January 2010, Katerina launched Accents Publishing. Katerina writes, thinks and dreams in two languages and believes wherever she happens to be is her home.
Books by Katerina Stoykova-Klemer:

Other poems on the web by Katerina Stoykova-Klemer:
"The Most"
"The First Time I Tried to Leave Home"
Katerina Stoykova-Klemer's Website.
About The Porcupine of Mind:
"Katerina Stoykova-Klemer's new book, The Porcupine of Mind, is bristling with intelligence, humor, and fresh perceptions. She has many ways of combining the ordinary with the fabulous. She can write a love poem to a single cell organism, or turn an encounter with an annoying fly into a fable of empathy. Read this marvelous book, and you will find yourself laughing out loud. You might also find yourself looking up from these pages refreshed and enlivened by your encounter with such a charmed vision and singular voice."
—Greg Pape
"If you are a new reader of Katerina Stoykova-Klemerís poetry, you are in for a delightful experience. Those of us who have read her work know that Katerinaís poems are like no one elseís; they are smart and weighty in subject, but as with the best poetry, full of lively play. Opening The Porcupine of Mind is like sitting down with one of those people who provide the best possible companionship. Readers, prepare for a rollicking good conversation, full of wit, intellectual hooks, and winking flirtation."
—Kathleen Driskell
"With droll wit and brainy imagination Katerina Stoykova-Klemer turns a large life and a long journey into the vibrant, astonishing miniature poems in The Porcupine of Mind, the first full book of her poems in English. These rubies, which she creates from potatoes, miseries, candles, mistakes, kisses, and lost friends, shine in surreal splendor. Tempering her extreme compassion is the prickly, matter-of-fact attitude of a Bulgarian dark humorist. Although we know her from a chapbook and from translations, now itís time to savor fully Katerina Stoykova-Klemerís protean imagination: one that can hold a conversation with a single cell or observe the heave in the body of a housefly. The Porcupine of Mind announces a vital new voice in contemporary American poetry."
—Molly Peacock
Support Verse Daily
Sponsor Verse Daily!
Home Archives
Copyright © 2002-2012 Verse Daily All Rights Reserved