®

Today's poem is "A Country Graveyard"
from Dream City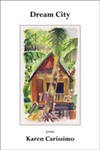 Karen Carissimo
was born in Berkeley, California, and educated at Mills College and The University of Southern California. Her poems have appeared in numerous journals, including North American Review, Notre Dame Review, Valparaiso Poetry Review, Western Humanities Review, American Literary Review, Crab Orchard Review, and Puerto del Sol. Her fiction has appeared in Green Mountains Review, and her nonfiction in The San Francisco Chronicle. She lives in the San Francisco Bay Area, and is currently at work on a novel and a second collection of poems.
Books by Karen Carissimo:

Other poems on the web by Karen Carissimo:
Two poems
"Christine"
About Dream City:
"In this extraordinary book, Karen Carissimo's unerring ear is matched to a distinct vision: one that is historically aware and all the more powerful for the poet's expressive restraint. The opening sequence alone is an achievement: we witness Maui's 'Dream City' becoming a reality through the toil of immigrant labor but at the cost of a once-defining culture. Elsewhere, Carissimo distinguishes herself as both a superior love poet and an elegist of the highest order, acknowledging how, in remembering our dead, we seek to 'empty the rooms, bury their failures, / let them rest without our burden of regret.' Dream City is an unforgettable debut."
—Ned Balbo
"An unfamiliar paradise awaits the reader in Carissimo's Dream City, an intimate look at Hawaii's history of leper colonies, prisoners, witch doctors, and ghosts of forgotten homelands. In a landscape of sugar cane, molding pineapple and monkeypod, the writer evokes the steam of a Japanese bath and the scent of sandalwood with equal ease as she explores not only the history of a place but her own history."
—Jeannine Hall Gailey
"In Dream City, Karen Carissimo's poems ache to save, rescue, redeem. We witness 'Saint Anthony weeping, saint of lost / souls, saint of lost things.' Ancestors, languages, the lush paradises of dreams—all lost, being lost. And we must preserve their beauty, 'save their stories of embellished lives / let them rest without our burden of regret.' Carissimo's poems—lyrical, radiant, even mystical—reclaim and safekeep our past, delivering to us ourselves, our selves."
—Vince Gotera
"Karen Carissimo has written an elegant, finely cadenced book of lyric and narrative poems in Dream City. Full of beautifully wrought images from the natural world of Hawai`i and California, her lines constantly verge and then spill into eloquent insights that revitalize the imagination and give insinuated flutters of hope borne from the ephemeral froth that spumes forth on a wave of beauty. Out of familial grief and anxiety for the fate of others, she enters into the psychological landscapes of mythological questing and makes of her journeys new myths and tales that talk to the dead and restore us, the living remnants, to our waking dreams. Out of intelligence and passion without a hint of cynicism or disaffection with literary language, in the midst of a pure lyric conviction, she memorializes lost worlds—the dream city of the Sixties that developers promised her Portuguese ancestors on Maui—imbued with their forgotten nobility, full of a long and loving vision rendering the obscure and exotic details of those lives with a cold eye and yet a warm heart. Karen Carissimo is no less than my literary sister, beloved of our islands, and has done us proud."
—Garrett Hongo
Support Verse Daily
Sponsor Verse Daily!
Home Archives
Copyright © 2002-2012 Verse Daily All Rights Reserved