®

Today's poem is "Music for the Night, Music for the Day"
from Come To Me and Drink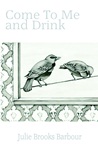 Julie Brooks Barbour
received her M.F.A. in Creative Writing at UNC-Greensboro. She is a recipient of an Artist Enrichment Grant from the Kentucky Foundation for Women. Her poems have appeared in journals such as The Greensboro Review, The Louisville Review, UCity Review, Kestrel, Waccamaw, and diode, and anthologized in Migrations: Poetry and Prose for Life's Transitions and Bigger Than They Appear: Anthology of Very Short Poems. She teaches at Lake Superior State University where she co-edits the journal Border Crossing.
Books by Julie Brooks Barbour:

Other poems on the web by Julie Brooks Barbour:
"Two Days"
Two poems
"Small Movements"
Julie Brooks Barbour's Blog.
Julie Brooks Barbour's Website.
About Come To Me and Drink:
"Julie Brooks Barbour is a poet exposed, calling on the essentials: apples, air, earth, a tiny tugging mouth. She makes a home in the opposite ends of a blooming life and writes forward. Hers is the voice of the new mother calling herself back to swollen breasts and healed stitches. Hers -- the levitating voice of the quintessential poet capturing life moments that have been 'left to themselves.' Ms. Barbour has left us humans, in need of her noticing, the greatest of portraits: the human soul seduced by what is puzzling, fleeting, always true."
—Nikky Finney
"When I first read Julie Brooks Barbour's Come to Me and Drink, I drew back in wonder at how a woman could bring to childbirth and motherhood--its blood, its wounds, its physical transformation-- such lyric beauty. Childbirth and its aftermath are not always, or so we have been taught, the subject of poetry. And our physical response to it not always a subject that many women of my generation wished to acknowledge. I could never have written such poems in those first weeks of motherhood; I did not have the vocabulary and I did not have the courage. Ms. Barbour has given us back our own moments as new mothers, our bodily heritage as women, our honesty as only a poet can render it."
—Kathryn Stripling Byer
"Come To Me and Drink by Julie Brooks Barbour is a meditation on the journey a woman takes from complete immersion in early motherhood to reentering the world outside the home once the offspring has grown. With these deeply moving poems, Ms. Barbour makes us vividly experience complex changes in relationships, as well as in the internal and external world of the speaker, both in extraordinary situations and in 'the challenge of every day.'"
—Katerina Stoykova-Klemer
Support Verse Daily
Sponsor Verse Daily!
Home Archives
Copyright © 2002-2012 Verse Daily All Rights Reserved