®

Today's poem is "Still Life with Rooms People Live In"
from The Apothecary's Heir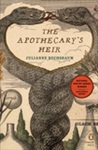 Julianne Buchsbaum
received an MFA from the Iowa Writer's Workshop and a Ph.D. in literature from the University of Missouri. She is the author of two previous collections of poetry, Slowly, Slowly and A Little Night Comes, and her work has appeared in Verse, Southwest, and Harvard Review among other publications. She lives and works in Lawrence, Kansas, where she is a humanities librarian for the University of Kansas.
Other poems by Julianne Buchsbaum in Verse Daily:
June 1, 2006: "The Power Plant" " Under the copper-clad latticework of the power plant..."
May 7, 2006: "Dear Beekeeper," " you have a way of listening..."
March 23, 2005: "Variations on a Theme Beginning With Darkness" ""Darkness begins with the wrong..."
January 19, 2003: "The Prodigal" "In the illness of surfeit, I've seen through..."
October 1, 2002: "Clouds Swell Out" "The finale of fall hangs in yellow clusters...."
July 13, 2002: "Slowly, Slowly, Horses" "Night designs a darkness of horseweed...."
Books by Julianne Buchsbaum:

Other poems on the web by Julianne Buchsbaum:
Three poems
Four poems
"Beyond Fluorescence"
"Flutes in Tunisia"
About The Apothecary's Heir:
"Julianne Buchsbaum's third collection of poems, The Apothecary's Heir, is riddled with `venom and wonder,' heavy with the freight of mystery and magical thinking. This is a world where a branch is `deranging the air,' where flies `burgeon' in a `broth of gold light.' The reader has the sensation of glimpsing the apothecary herself lining up and switching the potions `sequined and sinister' on their high glass shelves. The poems are elixirs: often healing, sometimes dangerous, always original, edgy, and precise."
—Lucie Brock-Broido
Support Verse Daily
Sponsor Verse Daily!
Home Archives
Copyright © 2002-2012 Verse Daily All Rights Reserved