®

Today's poem is "Communion"
from Oldest Mortal Myth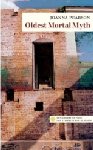 Joanna Pearson
grew up in North Carolina and holds degrees from the University of North Carolina at Chapel Hill, University College Dublin, and the Johns Hopkins University. Her poems have appeared in Best New Poets 2010, Gulf Coast, The New Criterion, River Styx, Subtropics, and elsewhere. Her first novel for young adults, The Rites and Wrongs of Janice Wills, was published in 2011. She currently works as a resident physician at Johns Hopkins and lives in Baltimore with her husband, Matthew.
Books by Joanna Pearson:

Other poems on the web by Joanna Pearson:
"Comforting Philomela"
Four poems
"By the River, a Pause"
"The Sword Swallower's Wife"
"Caution Exotic Animals"
"Minotaur"
"Origins of Winter"
"After Icarus"
"The Conjoined Twins"
Joanna Pearson's Website.
About Oldest Mortal Myth:
"The precise gaze and chiseled language of the poems in Oldest Mortal Myth authoritatively convey a broad and deep knowledge. Whether a re-imagining a Greek myth in order to infuse it with a contemporary pain, extending empathy and humorous Mitmenschkeit to both denizens and voyeurs of the world's freak-shows, or describing with wit and experience the spiritual affects of medical conditions, the book is infused with restrained but piercing emotion, a subtle metrical ear, and enough daring and wit to write in rhymed couplets to take the obvious, easy, way. For instance, with the last line of 'De Wallen, Amsterdam': 'The moon above the spires, a sexless disk,/eyes us coolly as an odalisque.' I so admire the refusal to make that last line scan as a perfect iambic pentameter line. It would be so easy; all you'd have to do is add the grammatical, but colloquial, 'as.' Which would have ruined the line, and the poem. Oh, and the rhymes in the canzone! There's much to admire here, much to enjoy."
—Marilyn Nelson
Support Verse Daily
Sponsor Verse Daily!
Home Archives
Copyright © 2002-2012 Verse Daily All Rights Reserved