®

Today's poem is "Your Brain"
from Injecting Dreams Into Cows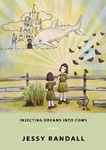 Jessy Randall
's collection of poems A Day in Boyland was a finalist for the Colorado Book Award. Her other books include a young adult novel, The Wandora Unit, about poetry nerds in high school, and a collection of collaborative poems, Interruptions, written with Daniel M. Shapiro. Randall's poems have been hung from trees, made into rock songs by garage bands, used in library advertisements, and sold in gumball machines. Her writing has appeared in Asimov's, Flurb, Many Mountains Moving, McSweeney's, Mudfish, Opium, Painted Bride Quarterly, Rattle, Sentence, West Wind, and Brain, Child. Randall writes regularly for Verbatim: The Language Quarterly about topics such as language in the Harry Potter series, rhyming reduplicative compounds, and the slang of Battlestar Galactica.
Books by Jessy Randall:

Other poems on the web by Jessy Randall:
"Superhero Pregnant Woman"
Two poems
Six poems
Four poems
Three poems
"Japan Suzie: A Found Poem"
Two poems
"City Dream"
"The Zone of Loneliness"
Two poems
Two poems
"How I Love Paris"
"Phone Sex With You"
Two poems
"My Friends"
"Ballerinas Do Not Fall on the Floor: A Found Poem"
About Injecting Dreams Into Cows:
""Were I a doctor, I'd prescribe Jessy Randall. Specifically, a poem-a-day, although I know the poem will not stay put in its prescription. It'll gurgle, thinking about growing fur. It'll unvelcro itself, step out of itself and morph into many brilliances, into many heavens in grains of sand. No, it'll morph into a thousand, glowing (hugely-glowing) melon spoons. Thank you Jessy Randall."
—Kate Northrop
"Jessy Randall's poems might be described as sassy—they're bold & confident & they always seem to get the last word, casually dropping a bomb on the carefully orchestrated scene. In short, they're smart; they know exactly when to hold back & when to release, when to demure & when to devastate."
—Nate Pritts
"[Randall's] poems are beyond predicting—some touching, some hilarious—full of fresh insights and some nice wildnesses."
—X.J. Kennedy
Support Verse Daily
Sponsor Verse Daily!
Home Archives
Copyright © 2002-2012 Verse Daily All Rights Reserved