®

Today's poem is "Dog"
from Still Some Cake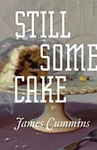 James Cummins
was born in Ohio and grew up in the Midwest. He attended the Iowa Writers' Workshop. His first book, The Whole Truth, a sequence of sestinas about the Perry Mason characters, was reissued in 2003 in the Classic Contemporary Series at Carnegie Mellon University Press. His other books include Portrait in a Spoon, Then & Now, and, co-authored with David Lehman, Jim and Dave Defeat the Masked Man, a collection of the poets' sestinas. He is curator of the Elliston Poetry Collection at the University of Cincinnati, and is married to the poet Maureen Bloomfield.
Books by James Cummins:

Other poems on the web by James Cummins:
"November 22, 1963"
"The Poets March on Washington"
James Cummins According to Wikipedia.
About Still Some Cake:
"James Cummins's Still Some Cake is filled with brilliant poems—'This Night of All Nights,' 'My Father's Hair,' 'The Greatest Generation,' 'The War of All Against All,' and 'Moses'—to name just some of the longer ones—written in an effortless, fluent style that presents surprises in almost every line. But the book transcends its individual poems, as its recurring obsessions—the burdens of the proximity of those closest to us, including ourselves—surface and resurface in the context of the family romance, history and war, the solitary, violent imagination, the narrative of the Bible—to create a fugue-like whole, by turns harrowing and exhilarating. Still Some Cake is one of the most powerful books in recent memory."
—John Koethe
"Better than any American poet of his generation, Cummins, in a voice fierce, simple, and matter of fact, writes nakedly of men and violence, men and their fathers, men and their friends, men and the women and children they love. His command of formalism is still as impressive as it is unobtrusive, and with it he renders the self—that's all of us—and our human longing to speak our truth nakedly and to be whole. I read this book, and am astonished and graced."
—Marilyn Krysl
Support Verse Daily
Sponsor Verse Daily!
Home Archives
Copyright © 2002-2012 Verse Daily All Rights Reserved