®

Today's poem is "Repartee"
from Evensong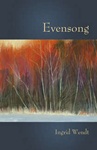 Ingrid Wendt
, born of German-Chilean and German American parents in Aurora, Illinois, began playing the piano at age five and the organ at eleven. A statewide award winner in high school and a church organist, she studied with Frances Sherwood of the Aurora Conservatory of Music, and with Dr. Rudolph Ganz, president of Chicago Music College. Her books of poems have won the Oregon Book Award (for Singing the Mozart Requiem), the Yellowglen Award (for The Angle of Sharpest Ascending), and the Editions Prize (for Surgeonfish). Her first book, Moving the House, was chosen for BOA Editions by William Stafford, who also wrote the introduction. A chapbook, Blow the Candle Out, was published by Pecan Grove Press. She is the co-editor of two anthologies: From Here We Speak: An Anthology of Oregon Poetry and In Her Own Image: Women Working in the Arts, and the author of the book-length teaching guide, Starting with Little Things: A Guide to Writing Poetry in the Classroom, now in its sixth printing. Other awards include the D. H. Lawrence Award, the Carolyn Kizer Award, and the Distinguished Achievement Award from her alma mater, Cornell College. She has taught in the MFA program of Antioch University Los Angeles and, as a Senior Fulbright Professor and Fulbright Senior Specialist, in Frankfurt am Main and Freiburg, Germany. A popular keynote speaker and a consultant with the National Council of Teachers of English, she has been a visiting poet at colleges and universities and in hundreds of classrooms, grades K-12, and has conducted teacher workshops in the United States and abroad. She currently performs with The Motet Singers, a semiprofessional thirteen-voice women's a cappella ensemble in Eugene, Oregon, where she lives with her husband, poet and writer Ralph Salisbury.
Other poems by Ingrid Wendt in Verse Daily:
December 11, 2005: "Mukilteo Ferry" " After the long drive north, relentless..."
Books by Ingrid Wendt:

Other poems on the web by Ingrid Wendt:
Moving the House (entire book)
from "Learning the Mother Tongue"
"Starting from Scratch"
"Prego"
Ingrid Wendt's Website.
About Evensong:
"These poems, full of feeling, reward the reader with their musicality and wit. Wendt seems equally at home in form and free verse. There's a well-wrought villanelle, a poem in unrhymed couplets that turns on a perfect metaphor, a retelling in skilled sestets of the old story of the fisherman's wife. The first and last poems are capstones of a rich collection."
—Maxine Kumin
"In this collection Ingrid Wendt sounds the depths of everyday experience and sings the mysteries she finds stirring there, bearing witness to the things that matter mostólove, spirit, memory, mortality, the ache and wonder of being alive. The poems of Evensong are the true testaments of an ongoing lifetime of cultivated attention. They are ambitious in the highest sense, 'defining maybe / more than we know, what we are too busy living / to say.'"
—John Daniel
"'What is prayer if not these measures / in which the heart / can pour itself out, out, out?' and pour it does, in poem after powerful poem, with subjects ranging from the Bach Mass in B Minor to Titianís Annunciation to Salmon Supreme cat food. Here are poems that are fully engaged in the news of the world, oil spills, earthquakes, tsunamis, wars (and their aftermath), yet thereís also 'Benediction,' a poem so good it alone is reason enough to buy this book. Ingrid Wendt has 'some words to toss in your direction,' and she throws them out like a lifeline."
—Barbara Crooker
Support Verse Daily
Sponsor Verse Daily!
Home Archives
Copyright © 2002-2012 Verse Daily All Rights Reserved