®

Today's poem is "Darwin Light"
from The Mimic Sea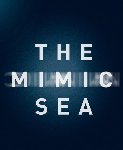 Erica Bernheim
was born in New Jersey and grew up in Ohio and Italy. She received her MFA from the University of Iowa's Writers' Workshop and her PhD from the University of Illinois at Chicago. Since 2008, she has been an Assistant Professor of English at Florida Southern College, where she teaches creative writing and directs the Honors Program.
Other poems by Erica Bernheim in Verse Daily:
January 29, 2005: "Summer Crookneck" "Spineless beauty, I can say this..."
Books by Erica Bernheim:

Other poems on the web by Erica Bernheim:
"63rd and Pulaski"
"Elegy Next to Cleanliness"
"Like a Face"
Two poems
About The Mimic Sea:
"As brilliantly and extravagantly hued as some rare fighting fish dangerously residing with us in the living room within the confines of the domestic version of the aquariums for which this wondrous collection is named, THE MIMIC SEA displays myriad radiant tones that shift as they catch the light--ominous, flirtatious, chilling, elegiac, and coy--and like all great poems and the most urgent spiritual addresses, it's impossible to say whether Bernheim's poems unfurl in courtship or in rage. These poems are dazzling, surprising, and as heartbreaking as they are venomous."
—Robyn Schiff
"Erica Bernheimís poems are deft and uncanny 'tales of spontaneous human combustion': Fueled by desire, ignited by acute alertness and verbal intelligence, and stirred by withering, self-scrutinizing wit. Above all, they are models of empathetic engagement, and their hard-won bursts of spontaneity are as humane as they are exhilarating."
—Mark Levine
"Like the 'finny miscreants' conjured in the title poem of her brilliant debut, THE MIMIC SEA, Erica Bernheim schools us in new ways of feeling. While its poems court neither mimicry nor parody, this writer knows its subjects well enough to gently prod them from time to time, all in good fun, with the tip of her knife. Thankfully shorn of poise, the manner in which the speaker approaches the page is nothing short of onslaught."
—Cate Marvin
Support Verse Daily
Sponsor Verse Daily!
Home Archives
Copyright © 2002-2012 Verse Daily All Rights Reserved