®

Today's poem is "Mother's Night"
from After the Point of No Return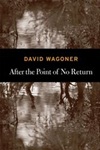 David Wagoner
, often referred to as the leading poet of the Pacific Northwest, was born in Ohio and raised in Indiana. Before moving to Washington in 1954, Wagoner attended Pennsylvania State University where he was a member of the Naval ROTC and received an M.A. in English from Indiana University. Wagoner was selected to serve as chancellor of the Academy of American Poets in 1978, replacing Robert Lowell, and he served as the editor of Poetry Northwest until its last issue in 2002. Known for his dedication to teaching, he was named a professor emeritus at the University of Washington. Wagoner has been compared stylistically to his longtime teacher and friend, Theodore Roethke.
Other poems by David Wagoner in Verse Daily:
August 12, 2010: "The Birth and Death of an Island in a River" "In a season of low water..."
May 12, 2010: "Possum" "You're crouching on the thin top of a fence..."
August 14, 2008: "Onstage" "I took a director to a waterfall..."
September 21, 2007: "My Snake" " By the railroad tracks, on cinders..."
August 7, 2007: "Free Fall" " At first he's making better and better time..."
December 19, 2005: "The Elephant's Graveyard" " Their huge gray shapes were trudging up a trail..."
June 16, 2003: "The Son of a Carpenter" "He knew the shapes and the gnarled persuasions..."
Books by David Wagoner:

Other poems on the web by David Wagoner:
"After the Point of No Return"
"Being a Model"
"In Memory of His Memory"
"Rooming with Jesus"
"Your Tree"
"Their Bodies"
"In Distress"
"The Cherry Tree"
Two poems
"Lost"
"A Logical Proposition to His Coy Companion Outside a Tropical Beach Cabana"
Two poems
"Following a Stream"
"In Memory of His Memory"
"Lost"
Thirteen poems
Three poems
"On Motel Walls"
"Eating a Toad"
Two poems
David Wagoner According to Wikipedia.
About After the Point of No Return:
"The grace, clarity, and emotional depth of Wagoner's works have been a constant model, and it is heartening to see that his most recent poems are his best. In them, he has the privilege of looking back with a rare wisdom, of looking down from the heights of his rare gifts."
—J.D. McClatchy
Support Verse Daily
Sponsor Verse Daily!
Home Archives
Copyright © 2002-2012 Verse Daily All Rights Reserved