®

Today's poem is "What's There"
from The Crushing Organ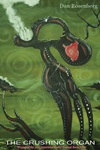 Dan Rosenberg
holds degrees from Tufts University and the Iowa Writers' Workshop. He is a Ph.D. student at The University of Georgia in Athens, GA, and a co-editor of Transom.
Other poems by Dan Rosenberg in Verse Daily:
June 20, 2010: "What's There" "There's seeing the girl and there's seeing her..."
Books by Dan Rosenberg:

Other poems on the web by Dan Rosenberg:
"Fracturing as a Kindness to Be Mined"
Three poems
"Beached"
"Origins"
"Epithalamion"
Two poems
"New Idioms"
Two poems
About The Crushing Organ:
"Dan Rosenberg drank all the great masters, took them inside, dead and alive, all alive. He explodes them and then he says: 'I want the sun to be potent and kind.' The sun listens. Or: 'The heavens are bleached out with streetlights and we all feel larger.' The reader's body reacts. Only the power of true poetry can make this happen. Here. In this book."
—Tomaž Šalamun
"At once tranquil, blighted, and ravenous in a time all its own, The Crushing Organ leaves no room for allegory, prophecy, or symbolic disclosure of any sort. Dan Rosenberg has a new kind of system where things already apprehended are things already agreed upon, which is to say filthy, annoying, and complicit in the horror these poems both survive and indict. But it is also a system for learning new joys, wakefulness, and physical kingdoms which have not yet begun. "yellow my finger in the lily. It doesn't keep to itself." Nor will the liberties in this striking book. To read it is to feel volition do its work on you."
—Peter Richards
"Quick, immediate, and deeply compassionate, Rosenberg's poems cover the vast range of the immanent quotidian. Through all their impossible turnings, we're nonetheless convinced that we're in the presence of the concrete, even the documentary. And while they recognize pressing catastrophe when they see it, yet they also see a way out—in a burst of flame, in storms with eyes, in a wire hanger bent to the shape of a human heart. Rosenberg has given us a tour de force of hope achieved through, rather than despite, a clear view of the current world."
—Cole Swensen
Support Verse Daily
Sponsor Verse Daily!
Home Archives
Copyright © 2002-2012 Verse Daily All Rights Reserved