®

Today's poem is "Scarecrow"
from Waxwings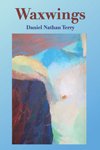 Daniel Nathan Terry
, a former landscaper and horticulturist, is the author of Capturing the Dead (NFSPS 2008; which won The Stevens Prize, and a chapbook, Days of Dark Miracles (Seven Kitchens Press 2011). He teaches English at the University of North Carolina Wilmington and serves on the advisory board of One Pause Poetry.
Books by Daniel Nathan Terry:

Other poems on the web by Daniel Nathan Terry:
"The 8th of May: A Vow Made for the 7th of May"
Two poems
"At the Corner of Shipyard and Independence"
Daniel Nathan Terry's Website.
Daniel Nathan Terry on Twitter.
About Waxwings:
"Waxwings is a book that takes observation, meditation, and memory as seriously as men and women take life and death. These elegiac lyrics show that Daniel Nathan Terry is unafraid of putting his experiences to use in the making of poems that ache after transcendence and long for revelation."
—Jericho Brown
"The world of Waxwings is singed with a desire so potent even "a rumor of fire/could reduce the neighborhood to ash." Overhead, birds are "feverish and thin as thorns." Even the peach orchard burns. Yes, we are led down dangerous paths, but trust the poet will hold our hand through the deepest brush, brush at times ablaze. This is poetry at its hottest and most naked, a gorgeous book wrought from all of our fiercest ardors."
—Kristin Bock
"'His true nature is beautiful,' writes Daniel Nathan Terry, and we see this to be true in this book which looks at the past and boyhood through adult eyes, and with a mind tuned to the complexities of art, language and the sexual urge which drives us to connect, one to another. The poems here emanate as much from the body as they do from the mind, which makes them felt, intimate, alive. This is a smart, startling, cadenced book."
—Mark Wunderlich
Support Verse Daily
Sponsor Verse Daily!
Home Archives
Copyright © 2002-2012 Verse Daily All Rights Reserved