®

Today's poem is "Little Bird"
from The Radio Tree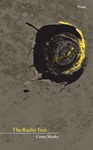 Corey Marks
' Renunciation was a National Poetry Series selection. His poems have appeared in New England Review, The Paris Review, Ploughshares, The Threepenny Review, and TriQuarterly. He has received a fellowship from the National Endowment for the Arts, the Natalie Ornish Prize from the Texas Institute of Letters, and the Bernard F. Conners Prize from The Paris Review. He teaches at the University of North Texas.
Other poems by Corey Marks in Verse Daily:
March 21, 2011: "The String" "unspools someone's..."
Books by Corey Marks:

Other poems on the web by Corey Marks:
"The Radio Tree"
"The Dogs"
"Dumb Luck"
Corey Marks According to Wikipedia.
About The Radio Tree:
"Corey Marks' delightful and surprising second book The Radio Tree uses such fresh and clarifying metaphoric language that we look 'through the near world' as if into 'the afterlife of chance.' And what we find there are such lovely and strange inventions made from what's near at hand—an unraveled kite string stretching over a 'tornado' of debris or "tentacles of magnetic tape"—that Marks reminds us how poetry comes alive to us by way of glimpses and inklings."
—Michael Collier
"In The Radio Tree, Corey Marks masterfully navigates the sometimes magical, sometimes heartbreaking geographies of time and narrative—of language itself. To read this book is 'to hear a new way of saying the old things: fire and grief'—in poems 'fine-boned,' wise, and beautiful. The Radio Tree is a splendid collection."
—Claudia Emerson
"Corey Marks is a deeply meditative poet, and brings to the lyric-subgenre of the meditation all the surface complexity and richness of the lyric. He avoids, however, the easy closure of the lyric, pushing always on beyond the known into gnosis. Some poets change wildly from book to book. Some do not change at all. Corey Marks began with an individual voice and vision, and in each new phase of his writing he has pushed beyond the fluency of the earlier work, expanding, amplifying, and magnifying the particularity of that voice and vision. The poems find in the ordinary the uncanny. The poems find in recollection a clairvoyance."
—Eric Pankey
Support Verse Daily
Sponsor Verse Daily!
Home Archives
Copyright © 2002-2012 Verse Daily All Rights Reserved