®

Today's poem is "Listen"
from Gaze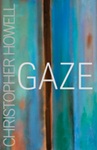 Christopher Howell
is the award-winning author of nine collections of poems, most recently Dreamless and Possible and Light's Ladder. He teaches at Eastern Washington University, and is also director of Willow Springs Books, and director and principal editor for Lynx House Press.
Other poems by Christopher Howell in Verse Daily:
June 7, 2009: "Dancers" "The bee drifts from the lily and the lily fronds..."
Books by Christopher Howell:

Other poems on the web by Christopher Howell:
"Love's Fugitive on the Run"
"Twenty Years Apart"
"Keats"
Christopher Howell According to Wikipedia.
About Gaze:
"The word gaze works two sides of the street. The book, Gaze, works those two sides, their common surface, the underside of that surface, and the liminal space between. There is almost no contemporary poetry I can think of capable of taking me where Howell's poetry takes me: not on a journey of distance but of perspective. These poems contain the essence of poetry, rational thought subverted into an exquisite and unexpected new logic. In this collection, Howell refreshes the archetypes of home, family, country, and soul, imbuing them with twenty-first-century pleasures, dangers, and complexities. Orphic, Miltonic, Rilkean, Howell is the poet I turn to when poetry eludes me, when I cannot remember my dreams, when I fail to love our human frailties."
—Kathy Fagan
"In his extraordinary new book, Christopher Howell uses, among others, the motif of the traveler to investigate the imaginative terrain where the afterlife, the other life, and the inner life find a singular life. What a range of emotions, and what a rightness of tone he can work into a poem. There is an honest ease in his voice and a clarity in his gaze that allows him to range through human time, from the freshness of childhood to the thrills and fears of adolescence to the recognitions of age and loss, playful, melancholic, elegiac, and stoic by turns. He blends the ordinary and the fabulous the way a great guitar player bends and stretches a note without missing a beat."
—Greg Pape
Support Verse Daily
Sponsor Verse Daily!
Home Archives
Copyright © 2002-2012 Verse Daily All Rights Reserved