®

Today's poem is "Homage to the Left Hand"
from The Visible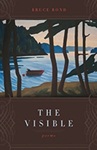 Bruce Bond
is the author of seven previous poetry collections including Blind Rain, and most recently, Peal. He is Regents Professor of English at the University of North Texas.
Other poems by Bruce Bond in Verse Daily:
September 1, 2011: "Arrows" "Every thrill in us creates unease..."
September 9, 2010: "Empire of Light" "It's the lantern that we look to most..."
April 17, 2009: "Sand" "So many grains, so many little tombs..."
July 24, 2008: "Tuning Fork" "Lynchpin of the singing wheel..."
June 26, 2008: "Scar" "What is it you forget in your vigil..."
May 8, 2008: "Will" "To the locusts that blur the lyres of their shells..."
April 16, 2008: "Elegy for Tim Buckley" "Scat singing for the sleep deprived..."
July 8, 2007: "Confessions of a Music Box" " No larger than a bird coffin..."
August 25, 2006: "Black Iris" " Dear guitar, my Cyclops, my raft..."
August 14, 2006: "Planetarium" " As the mobile of planets wheeled over my crib..."
April 18, 2004: "The Ghost of Weather" "My father takes smaller steps..."
March 30, 2004: "Rehearsals for the New Order" "The courthouse is empty now ablaze..."
October 12, 2002: "The Chimneys" "After the fire the monoliths of brick..."
July 23, 2002: "Mercy" "Dear happiness, forgive me..."
Books by Bruce Bond:

Other poems on the web by Bruce Bond:
"My Mother's Closet"
"Echolalia"
Two poems
"A Little History of Waves"
"Cruor Dei"
"The Invention of Song"
"Ringtone"
"Choir"
"Elegy"
"Thelonious Sphere Monk"
"Cruor Dei"
"The Invention of Song"
Bruce Bond according to Wikipedia.
About The Visible:
"In his remarkable new volume The Visible, Bruce Bond plumbs the 'long dark well of questions,' contemplating the mysteries of mortality and the vagaries of the human body—'the flesh, the earth, / the things that make us, molten at the core.' With characteristic formal precision and linguistic elegance, he reminds us of poetry's ultimate purpose, to show us the 'shining world outside the world.' Bruce Bond is one of our finest poets."
—Claudia Emerson
"Bruce Bond is a lyric virtuoso of exceptional range who pilgrimages to the heart of experience, 'somewhere between the dead / and the living, the root and the wing.' As visceral as they are visionary, these poems of elegy and exploration compel us 'to take the fear / of burning and wear it as a name, to be / that angel in the fire.'"
—Claire Bateman
"Reading this book of light, grief, fire, night, and the invisible life of the visible body, where the five senses are 'the five fingers of a hand / that grips the world,' we become fully human once again. 'Consider it a blessing,' says one poem, 'that part of you / you cannot see.' But Bruce Bond enables us to see; he is as fully and brilliantly a poet as anyone currently writing, and The Visible is not only a major achievement but, I suspect, a lasting one."
—B.H. Fairchild
Support Verse Daily
Sponsor Verse Daily!
Home Archives
Copyright © 2002-2012 Verse Daily All Rights Reserved