®

Today's poem is "Domestic"
from Spitshine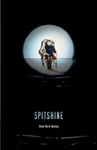 Anne Marie Rooney
earned her M.F.A. from Cornell. She is the recipient of the Iowa Review Award, the Gulf Coast Poetry Prize, and the Amy Award given by Poets & Writers Magazine to young female poets. Her writing has appeared in many journals, including Narrative, Crazyhorse, Columbia, and jubilat, as well as in the Best New Poets and Best American Poetry anthologies. She currently lives in New Orleans, where she is a teaching artist. This is her first book.
Other poems by Anne Marie Rooney in Verse Daily:
January 23, 2011: "First Domestic" "There is a house to me. When Saturday leaves a gradient..."
Books by Anne Marie Rooney:

Other poems on the web by Anne Marie Rooney:
Two poems
"The year of waiting on rooves for August to end"
Three poems
Two poems
"Alice, leaving the Caterpillar"
"After It"
Two poems
Three poems
Four poems
Five poems
Three poems
Two poems
"Alice, in the garden"
Two poems
"Queens"
"What the heart is"
About Spitshine:
"Of the word "bride," Anne Marie Rooney writes: "It has clout and a thorn, a tender to its center." The same could be said of these poems that weird the lyric into liminal states and imbue it with a powerful erotic charge. 'Every man / I've ever seen has seen me back. My eyes / sweat from it . . .' The sensibility—toughtalking, complex—charms and seduces in poems that figure the body as the ultimate domestic space. The body, what a place to live! is everywhere implied. Spitshine implodes with a pentimento of tones, noir to bright, and a list of the book's torqued forms—sonnet, prose poem, sestina—can't do justice to the poems' mordant, musical richness. Rooney also has her way with genre in a series of edgy pastorals and sexy elegies. Beyond pretty, her work foments an uncanny interiority, an untoward, bodice-ripping poetics of agency: 'I am unable to stay . . . anyone's kick-cat.' Trenchant, cheeky, the poems spit, and yes, shine with the singular glow of consciousness itself: ". . . Over fences my heart lifts / nothing and nothing at midnight is like it . . ." At once brazen and poignant, written in a hussified whiplash tongue, Rooney's poems create lushly oblique states of being and vex language into something ravishing and new."
—Alice Fulton
Support Verse Daily
Sponsor Verse Daily!
Home Archives
Copyright © 2002-2012 Verse Daily All Rights Reserved