®

Today's poem is "Sonar"
from the body | of space | in the shape of the human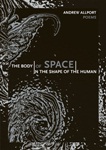 Andrew Allport
holds a Ph.D in Literature and Creative Writing from the University of Southern California. He is the author of a chapbook, The Ice Ship & Other Vessels, which won the 2008 Proem Press award. His writing has appeared in numerous national journals, including The Antioch Review, Colorado Review, Denver Quarterly and Boston Review, and has been nominated for a Pushcart Prize. He lives in Culver City, California.
Books by Andrew Allport:

Other poems on the web by Andrew Allport:
"Rae's Mask"
Four poems
About the body | of space | in the shape of the human:
"Andrew Allport's debut collection is at once intensely personal and urgently civic. It is brilliantly studied in its lyricality and yet, somehow, almost feral in its sustained ferocity. The tonal confidence, elegiac feeling, and belief in the sustaining (if not the transcendent) properties of the lyric make this collection reminiscent of some of the essential first books of the late century—I'm reminded of Dugan's Poems, Heaney's Death of a Naturalist, and Lowell's Lord Weary's Castle. This is august company indeed."
—David Wojahn
"Taking its emotional heart from Book VI of Augustine's Confessions, the body | of space | in the shape of the human sounds a chord of universal loss through the personal, literary, and historical as it moves passionately from Lear and Keats to the creature world of horses, sparrows, and snow plants, refusing to stop, a 'baptismal current' hungry and pure that leaves 'holes the size of eternity' in the reader's heart."
—Mark Irwin
"Andrew Allport's debut collection is a stunning and often heart-breaking accomplishment. From the wrenching series of elegies for his father to the more abstract and philosophical meditations on being and time, he makes certain we are always located in the actual and natural world. With a language both raw and elegant, with poems both dense and sublime, Allport shows us exactly how a Romantic poet writing in the 21st Century finds his way across historical and literary terrain so he might speak to us about our own troubled American moment."
—David St. John
Support Verse Daily
Sponsor Verse Daily!
Home Archives
Copyright © 2002-2012 Verse Daily All Rights Reserved