®

Today's poem is "The Identity in My Crisis"
from I Want to Make You Safe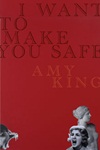 Amy King
's most recent books are Slaves to Do These Things and I'm the Man Who Loves You, both from Blazevox. She is currently preparing a book of interviews with the poet, Ron Padgett, and co-edits Esque Magazine with Ana Bozicevic. Amy also works with VIDA: Women in Literary Arts, and teaches English and Creative Writing at SUNY Nassau Community College, as well as conducting workshops at such places as the San Francisco State University Poetry Center, Summer Writing Program @ Naropa University, Slippery Rock University and Rhode Island School of Design. Her poems have been nominated for numerous Pushcart Prizes, she was a Lambda Literary finalist, and she was the recipient of a MacArthur Scholarship for Poetry. Amy founded and curated, from 2006, the Brooklyn-based reading series, The Stain of Poetry, until 2010.
Other poems by Amy King in Verse Daily:
December 20, 2009: "State of a Nation" "The actor is a second life..."
May 26, 2007: "A Ghost is Born" " Hissing news opens for ensuing..."
Books by Amy King:

Other poems on the web by Amy King:
Three poems
"The Ugly Americans"
"Death, Is Always"
"Denying the Bird Within"
Six poems
Five poems
Three Poems
Record Keeping
Three poems
Two poems
Four poems
Amy King's Website.
Amy King's Blog.
Amy King According to Wikipedia.
Amy King on Twitter.
About I Want to Make You Safe:
"Rarely have the nude and the cooked been so neatly joined" as in Amy King's I Want to Make You Safe. If "us," "herons," and "dust" rhyme, then these poems rhyme. If that makes you feel safe, it shouldn't. Amy King's poems are exuberant, strange, and a bit grotesque. They're spring-loaded and ready for trouble. Categories collapse. These are the new "thunderstorms with Barbie roots."
—Rae Armantrout
"Vulnerability, fragility, and anxiety are all flushed out into the open here and addressed with such strong sound and rhythm that we recognize a resilient, defiant strength within them. King puts relentless pressure on forces seemingly beyond our reach and, in bringing them closer, exposes their own vulnerable centers. This is a poetry equally committed to language as a tool with social obligations and language as an art material obligated to reveal its own beauty. King's language does both magnificently."
—Cole Swensen
"Amy King's poems seem to encompass all that we think of as the "natural" world, i.e. sex, sun, love, rotting, hatching, dreaming, especially in the wonderful long poem "This Opera of Peace." She brings these abstractions to brilliant, jagged life, emerging into rather than out of the busyness of living: "Let the walls bear up the angle of the floor,/Let the mice be tragic for all that is caged,/Let time's contagion mar us/until spoken people lie as particles of wind."
—John Ashbery
"I love Amy King's smile in photos of Amy King, Amy King's exuberance and looping, bashing panache (flamboyant manner, reckless courage) in the poems of Amy King, I'm going to say Amy King every chance I get in this blurb to make you think "I gotta read me some Amy King," especially if you're "looking for anything/that will pull the cork, boil the blood/of displeasure," as only the poems of Amy King can in the world in which Amy King is King (and Queen)."
—Bob Hicok
Support Verse Daily
Sponsor Verse Daily!
Home Archives
Copyright © 2002-2012 Verse Daily All Rights Reserved