®

Today's poem is "Orpheus, to No One but Himself"
from Dear, Companion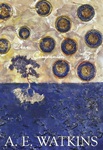 A. E. Watkins
is a graduate of the St. Mary's College of California MFA Program and currently attends Purdue University, where he is pursuing a Ph.D. in nineteenth-century British literature. Dear, Companion, his first collection of poetry, was runner up for the 2011 Amercian Poetry Journal Book Prize. His poems and reviews have appeared in Barrow Street, Copper Nickel, Denver Quarterly, Hayden's Ferry Review, Ninth Letter, Sycamore Review, and elsewhere.
Other poems by A. E. Watkins in Verse Daily:
February 25, 2010: "Blót" "The boulders like god-fists littering stubble-fields in March...."
February 16, 2010: "No Narrative" "A paradise forecloses once an aperture—no narrative but trees..."
Books by A. E. Watkins:

Other poems on the web by A. E. Watkins:
"Orpheus, to His Own Persephone"
"To Callisto, Who Was First a Girl, Then a Bear, Then Later the Bear Constellation"
A. E. Watkins's Website.
About Dear, Companion:
"John Keats was of the belief that a 'life of any worth is a continual allegory.' A.E. Watkins' debut collection takes on the notion with a lovely seriousness. The brilliance in these poems isn't simply in their lyric surety—a music so unfailing it turns image melodious—but in using lyric for a purpose often neglected in contemporary poetry. The poems here become a space in which the grain of the personal is held within the furrow of the allegorical, and over the course of a year, we witness the speaker's identity suffer into symbolic sympathy. That sympathy is erotic and agricultural—that ancient twining—and allows Watkins to invoke the world of Orpheus and Eurydice into his own, all while showing his readers, as a poet must learn to do, the reciprocal consequences of having one's own life called back into the forgotten one. Well, the forgotten world save only for poems such as these, which refuse to accept the post-modern condition as a separation from our allegorical one. These are poems of wonder and nostalgia, and a reminder that such conditions are not easy, but are instead evidence of the very wound that 'wondered this world green.'"
—Dan Beachy-Quick
"Herein, a poetry that takes its time, forgoing pyrotechnics for a low, slow burn. Other elemental activity's here as well—the wind flogging the prairie; the mind dirtying itself; a glass of water having its way with a stick. Dear, Companion is a definitive bewilderment, a bountiful catalog of thought and observation and loss. Read it and reap."
—Graham Foust
Support Verse Daily
Sponsor Verse Daily!
Home Archives
Copyright © 2002-2012 Verse Daily All Rights Reserved