®

Today's poem is "In Light of Recent Developments"
from A Hotel Lobby at the Edge of the World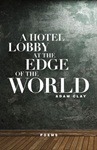 Adam Clay
is the author of The Wash (Parlor Press, 2006) and three chapbooks. His work has been published in A Public Space, Gulf Coast, and The Iowa Review. He co-edits Typo Magazine, curates the Poets in Print Reading Series at the Kalamazoo Book Arts Center, and teaches at Western Michigan University. He lives in Kalamazoo, Michigan.
Other poems by Adam Clay in Verse Daily:
October 15, 2009: "From As Complete As a Thought Can Be" "Seven years into the longest..."
July 7, 2008: "Beneath the Bridge" "The dead shepherd. The little river. The fields...."
May 22, 2008: "[I Saw My Face on the Dull Head]" "I saw my face on the dull head..."
February 21, 2008: "Scientific Method" "Twenty-three percent when placed under..."
Books by Adam Clay:

Other poems on the web by Adam Clay:
Two poems
"Study in Cartography"
"Bones and Wandering"
Two poems
Two poems
Two poems
Three poems
Two poems
"Red Car in the Future"
Three poems
"Psalm: Made by What"
Two poems
"Damaged Pigments"
Four poems
"Question About Death at Breakfast"
"Two Elegies"
Two poems
[In the Envelope of Secrets I Cloister]
from The Constaints of Architecture
Adam Clay's Blog.
Adam Clay According to Wikipedia.
Adam Clay on Twitter.
About A Hotel Lobby at the Edge of the World:
"One of the best young American poets writing today, Adam Clay engages fully with the natural world: plumbing the rivers and climbing the trees of our daily life in his superb lyrical poems. He gracefully dredges up the mysteries embedded in modern life—paper dolls clipped from the morning news, the ringing ears of lightning strike victims—and then brings 'the patient sadness that will outwait the memory of a spark' to life in precise swirls of language. Each poem shimmers with physical and metaphysical insight, and Clay's endless storms and seasons resonate with wisdom and music. A Hotel Lobby at the Edge of the World is a brilliant collection of poems."
—Alex Lemon
"Adam Clay locates the poetic realm at the very limit of what is known, a hotel teetering on the flat world's precipice, where every visitor is temporary. Not only does one hear Dickinson whisper, 'My Business is Circumference,' Clay arrives also with a Whitmanesque capacity for affirmation, 'The lyrical quality of a weed.' In a voice remarkably aware of the self as mere postmodern construction, Clay also writes out of the self-reliant need to say I and mean exactly this one who is speaking. The poems that result sing themselves through their own complications, searching for that beautiful order language has no part of, but only language can reveal. Poetic quest evolves into the responsibility of poetic question, and Clay is responsible for he responds. 'May I for a moment be nervous,' the poet asks. The answer in the poems themselves is their wondrous nerve."
—Dan Beachy-Quick
"One of Adam Clay's wonderful poems ends 'and nature still acts / as though it does not see you.' What I love about these poems is that they too are free of self-consciousness, sentient and surprising as only living things can be, intimate and compelling precisely because they don't aim to please but to exist. In his own words again, reading this book is like 'centering yourself along unrecorded boundaries' that Clay has somehow managed to discern for us and translate into poems that are in turns clear and strange, and always warmly memorable."
—Bob Hicok
"With a voice that is at once beautifully intimate and strikingly honest, Adam Clay's A Hotel Lobby at the Edge of the World is a remarkable exploration of the smallest human mysteries. Clay's tenderness toward the world is contagious even while he dissects its sometimes brutal isolation. These poems hover in and out of dreams, follow the mind's wild wanderings, interrogate language, reveal the heart's ambitions, all the while remaining brilliantly anchored to the physicality of all things earthbound. This is a book that lives as much in the curious mind as it does in the undeniable weather of the real world, and Clay travels expertly between the two with a gentle, inspired grace."
—Ada Limón
Support Verse Daily
Sponsor Verse Daily!
Home Archives
Copyright © 2002-2012 Verse Daily All Rights Reserved